White I love Band Music Pencils are the perfect pencils to store inside band music folders.
Need a cool pencil to store inside your band folders? Show off your love for band and music with writing utensils made just for you.
These wooden pencils with a pink eraser on the end arrive unsharpened in a pack of 10. The round barrel is white with a popular "I 💗 Band" design.
Clip them on music stands, store them in your instrument cases, keep them in sheet music binders, and hold them in music folders.
Teacher Note: they make great practice incentives, band rewards, playing test prizes, new student gifts, and motivating class or studio giveaways.
I Love Band Pencils (Pack of 10)
A pack of 10 "I Love Band" pencils in white with a pink eraser on the end. Use as practice incentives, band room birthday gifts, performance rewards, playing test prizes, and for new student welcome kits.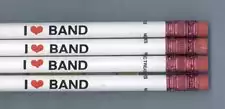 We earn a commission if you make a purchase through our links, at no additional cost to you.
One of the most frustrating things about being in the band is not having a pencil when you need it. Always have one on hand every time you need to fix a mistake. These are easy to store inside your music folder or bind and clip on your stand during rehearsal. Your music folder will already be opened, so it's easy to grab your pencil.
Always have a sharpened writing utensil with a good eraser during rehearsal. Your band director will thank you.