Give your sheet music some flair with these treble clef paper clips.
If you're a music teacher or a musician then you know how important your sheet music is to you. You need to be able to organize it and find it as quickly as possible. These treble clef paper clips help do just that. They're a stylish way of keeping your music organized and easy for you to find. Check them out and see how you can be more organized.
G-Clef Paper Clips
Colorful G-clef shaped paper clefs are the perfect way to organize your sheet music. They are great for color coding your music or curriculum worksheets into groups. They fasten easily to paper or inside music books and come in a variety of assorted colors. The clips feature a treble clef symbol. It is a big hit for sure with those who read treble clef notes!
Music Paper Clip Ideas
Here are a few ideas on how to use these fun music paper clips.
Band directors and orchestra teachers can easily group sheet music together by instruments.
Choir directors can keep vocal parts together.
Private music teachers can use these for student learning packets.
Piano teachers can make lessons more engaging by using these in your student's piano books.
Use these colorful page markers to mark special musical events like a recital, music festival, or class Christmas concert. You can bookmark your favorite music books by repertoire level with different colored page markers. Perfect for keeping track of student progress!
Keep all those music theory worksheets, documents, and tests organized by units and lessons, while adding a little pizzazz. Better yet, hand these to a student to help you get everything organized during their study hall.
Easy Treble Clef Gift Idea
Need a music gift idea that won't break the bank? These music page bookmarks are both affordable and practical. At less than $15, they make gift-giving enjoyable as a way to say "thank you" to music teachers. It is an easy music teacher end of year gift that is useful and memorable.
Music Incentive Ideas for Students
Music themed paper clips can be a unique music incentive idea for students. Instead of stickers, why not give music clips? Keep the practice motivation going with a useful reward that parents approve. Students need help keeping music organized in their folders. They will have fun working towards their practice goals, earning a fun tool to stay organized.
Colorful Metal Treble Clef Paper Clips
These colorful metal music paper clips come in a portable acrylic storage box of 100. Brighten up your music stationery office supplies and add these cute clips to your music books. These clips are strong, reliable, and compliment your music office or studio. They hold together worksheets, notebooks, scores, binders, curriculum books, piano books, and more.
Rose Gold Treble Clef Symbol and Music Eighth Note Paper Clips
Lovely treble clef paper clips and eighth-note paper clips in rose gold and yellow. The package includes 20 paper clips that come in a transparent acrylic storage box. Perfect for adding a classy style to your music office supplies. No more of those ugly plain paper clips, these colorful gold and yellow ones dress up your desk.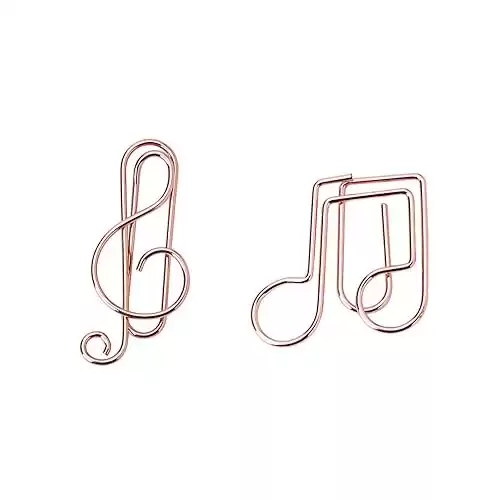 We earn a commission if you make a purchase through our links, at no additional cost to you.
Black Treble Clef Shaped Paper Clips with Metal Storage Tin
These black treble clef symbol paper clips come in a nice metal storage tin that look great right on your desk. There are total of 100 pieces that are ready for getting that music organized! These paper clips are sure to make a statement at your next work meeting or music lesson.
We earn a commission if you make a purchase through our links, at no additional cost to you.
Get Your Music Organized
Music teachers and musicians can use treble clef paper clips to keep their sheet music organized without having to punch holes in their sheet music. The paper clips can be used to keep pieces of sheet music together, or can be used to mark places in music books that need to be studied or practiced.
It may not be exciting for you to organize your sheet music, but it makes it easier for you to find what you need when you need it. These paper clips make it simple to organize sheet music by key signature, composer, or any other way you need to categorize the music. Try them out and tell me what you think.
How do you keep your music and worksheets organized? Share your best tips in the comments below.