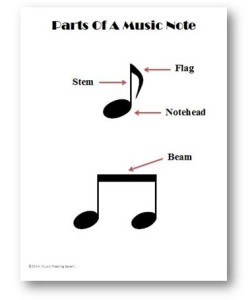 What are the different parts of a music note?
Have you ever thought about this before?
Each of the 4 parts have their own name and serve an important function.
Part 1 – The Notehead
The is the oval shape (filled in or empty).
The placement of the notehead on the music staff (on a line or in a space) tells us the official letter name of the note.
Part 2 – The Stem
The stem is the little "stick" found attached to the notehead going up on the right or down on the left.
Part 3 – The Flag
Most commonly found attached to the stem, the flag indicates the rhythmic value of the note. [Read more...]