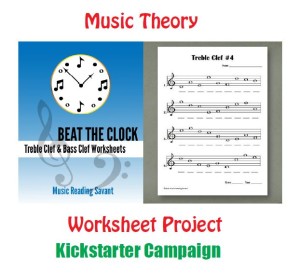 I've been hard at work trying to figure how to create more materials to help people with their music reading skills.  My head is swirling with so many ideas and not enough capital (and sometimes time) to get them all done.
That's where I got the idea to try Kickstarter.
In an effort to try and take some dramatic steps forward (and not keep me up at night), I decided to create a Kickstarter campaign.
What's Kickstarter?
Kickstarter is a place where entrepreneurs, artists, and anyone with an idea can start a campaign to raise funds for their project.  Once the funds are raised, those who have made a pledge can receive something in return.
Many times, it's a copy of the completed project itself. [Read more…]