Learn what AP music theory is and decide if it's right for you in the next few minutes.
Let's face it. College classes are expensive. They cost far more now than ever before.
Studying music in college also takes more time than most majors. This doesn't help with finances either. An average college graduate with a music education or music performance degree takes about 5 to 6 years. That is only if you max out the total amount of credits you are allowed to take per semester.
How can you shorten the time it takes to get a degree in music and save money? By taking an AP music theory course in high school. This is one class that will benefit you in multiple ways before enrolling in a university or college.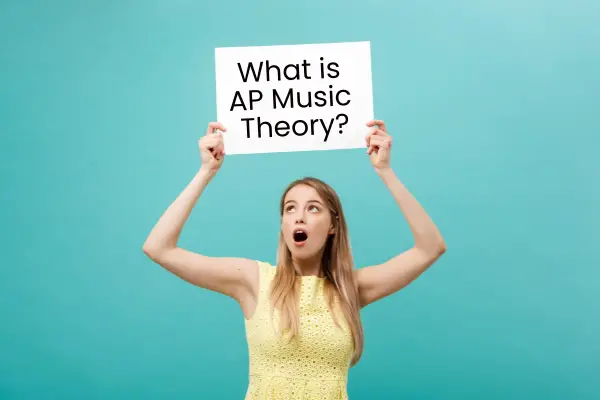 What is AP Music Theory?
AP music theory is similar to an introduction to music theory class. It will help ensure you are ready for Music Theory I and pass it with confidence. This course helps you understand how to apply the elements of music on a basic level. You will analyze both performed and written music by various composers and be able to explain how the piece was created. Another skill set you will practice is dictation. This is writing down exactly what you hear.
Wikipedia describes AP music theory as an advanced placement music theory course with a final examination. This is offered in high schools across the United States. It helps students earn college credit before attending college.
Ultimately, the goal is to pass the final AP music theory exam. This will prepare you for advanced music theory and aural training coursework. If you do not take an AP music theory class before college enrollment and declare music as your major, you may need to take an introduction to music theory class as a prerequisite.
This will ensure the best chance possible of passing all four required music theory and aural training classes without needing to retake any. Money and time are both saved every time you pass a class. It takes you one step closer to graduation while preparing you for your dream music career.
AP Music Theory Summary
AP music theory courses are for those who want to study music in college. Taking this class in high school is a great way to prepare yourself before declaring your major in music. It can also save you a lot of time and money in the long run.
Most people do not get an adequate music theory education before college. Even those who take private music lessons their entire life miss out on developing these skill sets. If you are serious about a career in music and want credibility, get prepared in advance by taking an AP music theory course. It will also reduce anxiety and build your confidence.
Read More About AP Music Theory