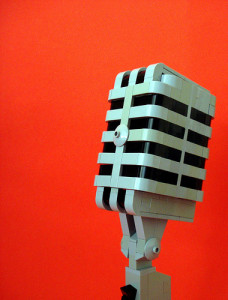 Meet Bobby Abrams, crooner singer extraordinaire.
This is a great story about someone who loves music and is not letting anything hold him back.
Here it is in his own words…
The Bobby Abrams Story
Growing up as the youngest of 5, I had it all to look forward to.
I saw my sister and three brothers pass through school, university, and eventually into their own families.
My Mother and Father met whilst abroad.
Dad would entertain his peers and the locals with his piano skills.
My mother who teaches in a local school, has been doing so, through song and dance.
She has been teaching over 25 years and still to this day, we bump into people who remember the famous lessons.
Family Dance Lessons
One of my earliest memories is going for family dancing lessons to perform in front of attendees at my brothers birthday.
My best memories take me back to our family Saturday nights, before we all go our separate ways, and singing 'round the piano.
We would sing all types of music from rock 'n roll Jerry Lee Lewis to Frank Sinatra, and of course, the Beatles.
Penny Lane and Strawberry Fields are both round the corner from my house.
To see the impact created by 4 young guys from my area in Liverpool was special.
Message for me = Sky is the limit
The Crooner Singer
Over the past few years I have been adapting my voice to a crooning style.
For starters, the words and music are simply well put together.  Sammy Cahn, Irving Berlin and Jule Styne, to name a few, wrote timeless classics.
There is a reason why most of these songs get recreated by other artists.
First, it started with Frank Sinatra, then Frankie Vaughan, and then Tony Bennett.
It's almost an endless cycle for me which is great.  Their stage act and presence was practiced until perfect, thus teaching me patience.
I feel I am growing with every performance and I am always on the lookout for the next gig.
Recording Music
As far as recording my music, I am all natural and it has carried out in a small recording studio, a.k.a my bedroom.
I have a microphone attached to a computer attached to some speakers.
I recently just bought my first PA and speaker with money made from my gigs.  Those things cost a lot of money.
Before then, it was my microphone and guitar amp.
The Sky Is The Limit
Onwards and upwards, I am always looking to expand my repertoire and stage act.
My dream would be to sing with a big band just like Frank Sinatra and the Tommy Dorsey Band.
For me, it's the simplicity of the voice and the world renowned reputation of the songs which could lead me almost anywhere in the world with an audience member humming the familiar tune.
Enjoy His Music
What's holding you back from realizing your dreams and sharing your music?
Become a "the sky is the limit" kind of person like Bobby Abrams…
photo credit: Profound Whatever via photopin cc