The treble clef is one of our most common clef signs to read.
It is also called the G Clef.
Why is that?
Because the belly or spiral of the clef sign wraps around the second line of the music staff.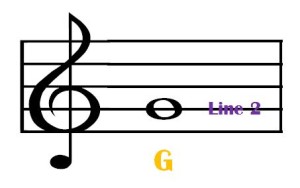 The purpose of this is to show us that any note placed on the second line will always be the letter name "G".
The treble clef is used for higher pitches including those upper sounding instruments and voices.
By the way, this symbol used to be the letter "G" before it got all fancy like we see it today.
Next, I'm going to show you how to read all the rest of the notes on the treble clef staff. Go to Treble Clef Notes – Reading Music Lesson #9