Are you looking for unique gifts for music lovers?
Then you've found the perfect gift guide for you!
There are tons of great gifts for music lovers, but most of them aren't unique enough. In fact, many of them look exactly alike. This means that you won't get any attention from music fans who already have everything they need.
That's why I created this list of unique gifts for music lovers. These items will make sure that you stand out from the crowd and attract attention from music fans everywhere.
I'm going to share with you my top picks for unique gifts for music fans. And I guarantee that these gifts will blow away anything else you find on Amazon.
We'll start by listing some cool things to buy for people who enjoy listening to music.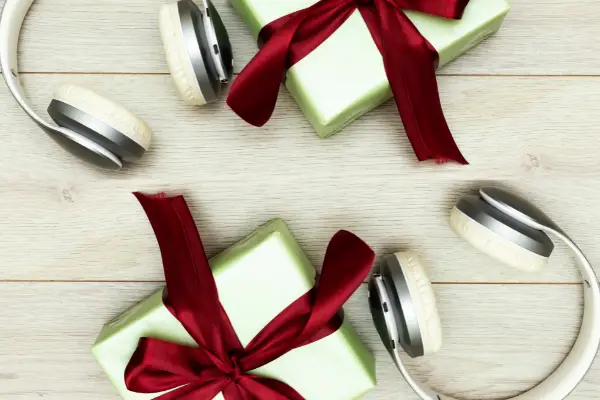 What to Get Someone Who Loves Listening to Music
For those who love listening to music, only the best will do. Here are a few gift ideas to ensure they never miss a beat.
For those who enjoy extra bass, the sound from this ultra-compact Bluetooth speaker really delivers. It's waterproof and dustproof, so you can take it anywhere. Stream music wirelessly from your smartphone, tablet, or computer.
Enjoy 5 hours of uninterrupted listening time with one battery charge. Take it to the swimming pool, park, lake, or beach. Do yoga outside or have fun river rafting while listening to your favorite playlist.
This powerful little speaker is similar to the JBL Go 3, but with a handy clip for easy portability. The carabiner has been designed to integrate into the speaker for extra protection. Clip it on your backpack, purse, beach bag, or belt loop and listen to your favorite songs while exploring the world. Take your tunes with you while hiking, riding your bike, or even feeding your chickens.
If getting a good night's rest is high priority, this sleep mask that plays wireless music makes the perfect gift. Stay comfortable all night long with no pressure on the eyes, an adjustable strap that doesn't get tangled in your hair, breathable fabric that is washable, and full stereo sound.
Block out the light and enjoy 8-10 hours of peaceful music. It is compatible with most cell phones, tablets, and computers. Take it with you on a plane, train, or while riding in a car. Throw it in your luggage or weekend bag and enjoy a peaceful stay at a hotel. This is a must-have if you live in a college dorm, fraternity house, or apartment.
Insomnia and boring workouts are a thing of the past with these wireless sleep headphones and workout headband. Block out your surroundings, allowing music to put you to sleep or get in the zone during your workout. It only takes 2 hours to charge and has 9 hours of playing time.
The soft, breathable fabric absorbs sweat, and it's machine washable. It's comfortable to wear while taking a nap or going out for a jog. Keep your ears warm in the winter and stay motivated to exercise longer. Throw it in your bag and take it to the gym, travelling, or on an outdoor excursion.
Enjoy warm, flickering yellow light while listening to your favorite songs. Create a romantic evening quickly with 12 hours of playing time and a realistic flame. The waterproof speaker connects with most bluetooth-enabled devices such as a smartphone, tablet, or computer.
Relish a soft and inviting atmosphere while reading a book, studying, or hanging out with friends. Take it with you to the beach, a park, or turn your backyard into a dance floor. Relax and enjoy a vacation on your deck every weekend!
This cool wooden radio player with rotary dial will take anyone back to simpler times. The built-in stereo speakers offer high-quality sound. There are 3 metal knobs for navigating stations, controlling the treble and bass output, and dialing the volume up or down.
Nostalgia meets modern features. Tune in to your favorite radio stations with this aesthetically pleasing compact radio that delivers a surprisingly powerful sound. With Bluetooth technology, you can stream music from your smartphone, tablet, or computer. Get rid of messy wires and listen to your favorite music up to 33 feet away. It weighs less than 3 pounds, so it's easy to move around different rooms.
For those who love listening to music in the shower, this compact waterproof wireless speaker packs a punch. It even floats, so you can use it in the bathtub, at the beach, or while kayaking without fear of loosing it. You don't have to worry about sand, mud, snow, getting stuck in it either. It's resistant to most elements and easy to handwash. The bathroom steam doesn't interfere with the crystal clear sound quality.
There are 5 different LED light patterns that can be used as night lights while biking or backpacking. The Bluetooth technology allows you to connect effortlessly to your smartphone, tablet, or computer. Stream your favorite music with a range of up to 33 feet. There is even a built-in microphone for hands-free calling.
Its compact size fits in your palm. The carabiner clip allows you to clip it on anything. Take it with you camping, hiking, canoeing, bike riding, or swimming.
If you need a gift for a music lover that appreciates listening to music with fine craftsmanship, then this is ideal. It is built using solid MDF wood with a high-gloss piano lacquer finish. It uses a belt-drive system to spin records at an accurate speed of 33 1/3 or 45 RPM.
Listen to vinyl records and enjoy streaming music wirelessly from a smartphone, tablet, or computer using Bluetooth technology. You do need to connect this record player to an amplifier using the built-in magnetic type preamp. It also includes phono and line outputs that allow you to listen to your vinyl without a phono equalizer.
The tonearm uses an adjustable counterweight force, preventing skipping and distortion, while protecting records from damage. The magnetic diamond-tipped stylus cartridge produces a rich sound with full clarity. Overall, this turntable is constructed well, and it's a solid option for audio enthusiasts.
Lightweight, breathable, and windproof knitting makes it the perfect winter hat that plays your favorite tunes wirelessly. This is essential winter gear for anyone who loves listening to music.
Connect your smartphone, tablet, or computer using Bluetooth and stream music up to 33 feet while staying warm outdoors. Enjoy 20 hours of music playback, so you can spend more time on winter activities and less on battery charging. When it's time to wash, just remove the headphones and throw the stocking cap in the washing machine.
Do you remember mixtapes? Yeah, me too. Guess what. They're back and better than ever. Plus, you don't have to make this cool soundtrack yourself.
This mixtape features a collection of songs used in the movie, Guardians of the Galaxy. This is a replica of the mixtape shown in the film as part of the storyline. All the music is from the 1970s and playable on any cassette player. Yes, it actually works!
What to Get Someone Who Loves Playing Music
For anyone who loves exploring new sounds to play, not just any instrument will do. Here are a few gift ideas to ensure even the most accomplished musician never gets bored.
A handmade kalimba made of black walnut and 21 metal keys provides the best musical experience for beginners and professionals alike. The small, portable size and carry case makes it easy to take it with you. Have fun showing off your new talent at a party. For someone that absolutely loves musical instruments from around the world, this is a must-have.
A sound bowl may not be a conventional musical instrument, but it does promote healing. A stressed musician will find relief with this handcrafted instrument. This meditation bowl set includes a wooden striker and cushion.
Hammered in the Himalayan Foothills by Nepalese artisans, it plays beautiful, rich tones that are mesmerizing. It's an excellent gift for a music lover that needs to reignite their creative thinking in the brain.
Based on a popular character in Japan, this cute instrument plays beeps, tones, and slides. Start playing by sliding your fingers along the stem (slide bar) to create a melody and change the pitch. Squeeze the cheeks to change the tone of the notes played and wiggle your fingers on the tone bar to create a vibrato effect.
It's powered by batteries and the switch in the back controls low, medium and high pitch tones. There is also a volume switch in case you get carried away and start rocking out too loud.
Believe it or not, this is a best-selling musical instrument in Japan. I bet your favorite musician doesn't have one of these. Get all the colors and start a band!
What to Get a Guitar Player
For amazing guitar players, only the coolest gadgets will do. Here are a few gift ideas to ensure they are always ready to rock 'n roll.
Need to get your guitar tuned quickly? This will do it for you in less than 30 seconds. It works with electric guitars, acoustic guitars, ukuleles, banjos, mandolins, lap steel guitars, bouzouki, mountain dulcimers, cigar box guitars, and any string instrument with a guitar machine head. All you have to do it place it on a tuning peg and pluck the string. It will do the rest for you.
Use the metronome to set a tempo and feel the beat vibration while playing. When it's time to change your strings, use this to quickly wind and tune your new strings easily. The compact design makes it easy to take anywhere. The tuning accuracy is excellent, even in the noisiest of environments.
This does not work for tuning bass guitars, but the ROADIE Bass does.
Automatically tune your 4, 5, and 6-string bass guitars in just a few seconds. Choose from a wide range of preset tunings, including open G and open D. Have rust on your bass guitar pegs? No problem. It can tune those too. The battery life is one month on a single charge. A USB-C cable is included for charging the battery.
Bring it to your gig and tune with confidence. The tuning accuracy is phenomenal, even in noisy places. Change your strings with ease by using 3 different speeds for winding and unwinding your strings. This hand gadget allows bass guitar players more playing time instead of spending too much time tuning.
Any guitarist who also loves art will love this set of artsy guitar picks. This pack of 12 guitar picks depicts Vincent van Gogh's most famous paintings. It's like having an art museum in the palm of your hand.
The full set comes in a metal click-clack box designed to keep picks safe. It also comes with a leather keychain pick holder. Keep both in your pocket or guitar case for easy portability.
These picks are medium gauge thickness (0.71mm) and made with a celluloid themed plectrum. The high quality printing offers a natural feel and warm sound. Play your heart out without fear of ruining your picks. The printed picture will never come off. It is embedded into each guitar pick.
This guitar pick maker is a guaranteed hit for guitarists. It comes with a leather pick holder keychain that holds up to 10 picks for quick storage on the go. It also includes 4 starter strips at medium gauge thickness (0.71mm) to make 20 picks.
Made with sturdy construction, the stainless steel blade punches out picks uniformly every time. It's super easy to use. Make guitar picks out of old credit cards, gift cards, or hotel room keys. Get creative and recycle any type of thin plastic. Making your own picks has never been easier!
What to Get an Elvis Fan
For true Elvis fans, only the best albums and record players will do. Here are a few gift ideas to ensure they can always rock out to Elvis' greatest hits.
Elvis music lovers still love vinyl. There is just nothing else that can replicate the authentic sound quality of a vinyl record. Of course, for those without a vinyl record player, you can get this album on CD or MP3 also.
Enjoy listening to the King of Rock 'n Roll's top 50 hits over and over again. The sound quality is smooth. The remastering job is incredible. Even the most discerning audiophile will love it. 
If your favorite audiophile and Elvis fan doesn't have a record player, consider getting them this fun retro turntable with built-in speakers. The sound quality is excellent. Weighing less than 3 pounds, it's easy to carry around to different rooms. Vinyl lovers can now listen to music anywhere with its sleek portable design.
This portable turntable plays 33 1/3, 45, or 78 RPM records. It's an affordable option for a beginner music enthusiast. The vintage look combined with modern technology gives it high flexibility.
Not only can you use it to play vinyl records, you can also stream music from your smartphone, tablet, or computer using Bluetooth technology. There is even a line-input to connect devices without Bluetooth such as a CD player. Connect additional speakers using the RCA line outputs. For private listening, connect your headphones using the headphone jack.
Know a music lover that needs a vinyl carrying case or a place to store cherished Elvis records? This portable vinyl record storage container with a retro look is an ideal option. It matches the vintage Victrola record player perfectly.
It fits all standard vinyl, including 33 1/3, 45, or 78 RPM and all LP records in 7, 10, or 12 inches. This heavy-duty LP storage container holds up to 30 of your most treasured records in your collection. The secure lock keeps your records safe and free from dust, scratches, or any other type of damage. This is a fantastic gift that protects your record collections.
Elvis fans that love hearing him sing gospel music will adore this collection of 25 sacred songs on CD. The King of Rock also loved gospel music. All three of his Grammy Awards were for gospel recordings. Gospel music is a big part of who Elvis truly represents. You will find yourself listening to this collection over and over again.
Unique Gifts for Music Lovers Summary
I hope this gift guide sparked some new ideas for unique gifts that any music lover would love to receive. It's difficult to find something truly different. But, I think you'll agree that these are the best of the best!
If you're looking for a more personal gift, check out my list of the Best Music Gifts For Her and The Best Music Gift Ideas for Him.