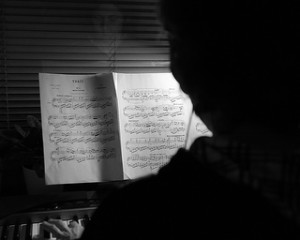 Are you seeing steady progress in playing or reading music?
Do you feel pretty good about how well things are going for you or are you just banging your head against the wall?
Practicing without knowing how to practice is like trying to learn how to ride a bike without any legs.  You're not going anywhere anytime soon…
Sometimes, the best way to learn how to practice is by staring at someone else that's getting the results you want.
So, let's take a look at a few habits of highly productive musicians and see which ones you may want to adopt.
Habit #1 – Create a Plan
Planning out each practice session will keep you focused and save you time.  To do this, write down what you worked on and what you want to do next in a notebook, on a loose sheet of paper clipped to your music, or mark it right into your music.
Keeping a record will prevent you from wasting time "thinking" about what needs to happen next.  It's all right in front of you.  Review it briefly and get busy right away.
Habit #2 – Tackle the Tough Stuff First
Isolate the biggest problems and start working on them first while your energy is high.  Focus on executing the most difficult passages with high precision.
Save the easier things for the end of your practice when your energy is low.  These things don't require as much effort and feels like a reward after tackling the tough stuff first.
Habit #3 – Repeat & Repeat
The most powerful weapon in your arsenal is repetition.  Get familiar with it and embrace it.
Take a small snippet of music and repeat it several times.  Do this again and again.  When used properly, you'll actually learn the music faster while spending less time practicing.
Habit #4 – Practice Little & Often
If you are truly focused while practicing, the impact can really be intense for the mind.  Because of this, it's best to practice in shorter sessions, but more often.
For example, spend ten minutes working through a passage and then get up and do something else for ten minutes.  When you come back to it again, your mind will be relaxed and ready to learn.
Never try to cram into one day what should be done over a course of a week.  Your brain just can't take that much punishment.
Habit #5 – Think of Mistakes Differently
If you are truly pushing yourself and working on the edge of your ability, then you are bound to make mistakes.  Excellent!
Those mistakes will give you the information you need to keep moving forward.  They give you direction for what your next move will be.
Mistakes are a normal part of the learning process and should be thought of as necessary pillars for improvement.  You can't expect to get any better unless you do something first…and that means being willing to make a few mistakes along the way.
Habit #6 – Push Past Plateaus
When you see the progress stop, you need to make a shift.  Push yourself past your comfort zone by changing your practice method.
You can do this by slowing things down, speeding them up, reversing the order, starting in different places, or by working backwards.
Choose any technique that will knock you out of your comfortable place and get you striving (and even struggling) again.
Habit #7 – Know When to Stop
Let's face it.  You're a human being that wears down and gets tired.   It's okay, I am one too.
Fatigue can be one of our greatest enemies.  It slows down the brain, triggers errors, decreases our concentration, and leads to poor decisions that will inevitably create bad habits (*gasp*).
Master the art of knowing when to quit.  Don't wait until you've reached complete exhaustion.
Need More Help?
Check out this resource for more great ways to improve your music practice.  Stop wasting your time not really knowing how to practice efficiently and start getting something done today!
photo credit: MikaelWiman via photopin cc