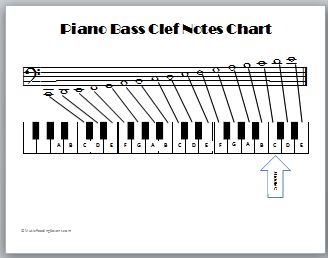 There's a cool thing happening here…
Take a look at this Piano Bass Clef Notes Chart.
Not only does it show you the names of the notes on the bass clef staff, it also points to the corresponding keys on the piano.
If you are a pianist or simply wanting to learn music theory a little deeper, this is the perfect tool for you.
Middle C has been conveniently added as a reference point.
This chart makes it easy to start learning the names of the notes on the staff and where to play it on the piano at the same time!
Even More
The bass clef notes extend 2 ledger lines above and below the staff.
A little more than 2 octaves are represented here.  It's enough to get you started reading and playing most of the notes you will encounter in the bass clef on a regular basis.
Grab a Copy
If you like this chart and want a copy of your own, head on over to the Music Theory Charts page and click on the one that is similar to this.