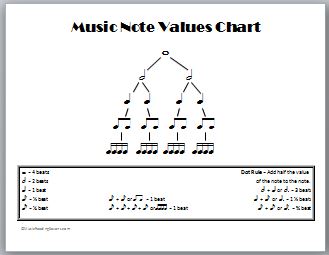 This Music Note Values Chart shows you the relationship between music notes.
At a quick glance, you can see that…
A whole note equals 2 half notes, 4 quarter notes, 8 eighth notes, or 16 sixteenth notes.
A half note equals 2 quarter notes, 4 eighth notes, or 8 sixteenth notes.
A quarter note equals 2 eighth notes, or 4 sixteenth notes.
2 eighth notes equals 4 sixteenth notes.
If you forget the relationship and value between each of these notes, this chart is handy as a reminder.
Also included
The bottom of the chart tells you…
How many beats each note is worth.
Seeing eighth and sixteenth notes as individual notes vs. in groupings of 2 and 4 notes barred together.
The dot rule for problem solving any note with a dot.
Print Your Own
If you like this Music Note Values Chart, you can grab a copy for yourself from the Music Reading Savant Store.  Just add it to your cart, purchase, download, and print!