Play Jingle Bells on piano in 5 minutes or less with this short piano tutorial.
I know what you're thinking. Playing the piano looks intimidating. It seems like it would take years just to learn how to play one song. It's always a reminder every holiday season when Christmas music is heard everywhere.
You just can't escape that nagging desire to play a fun Christmas song. What if I told you that learning how to play a Christmas song on the piano isn't really that hard? Jingle Bells is one of the most popular songs around the holidays that everyone wants to learn how to play.
Guess what? You can do it. Here's how you can learn how to play it using Jingle Bells piano sheet music with letters.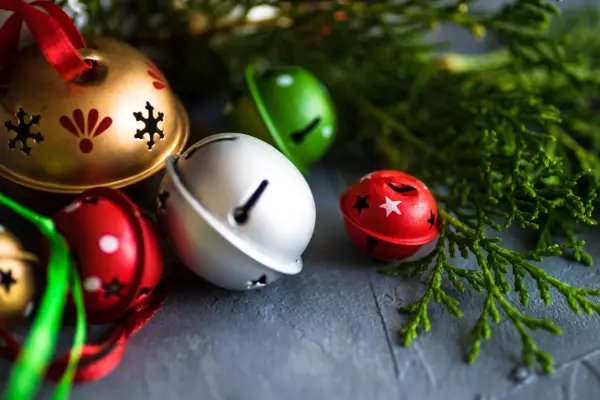 How to Play Jingle Bells on Piano With Letters
It's easy to play Jingle Bells on piano with letters. You don't even need to read sheet music! Let me show you the piano notes first, and then I will share with you some sheet music that you'll love playing. 
The easiest way to get started is to use a simple key like C major where there are no sharps or flats to remember. All the keys used on the piano are white keys. Set your right hand in middle C position on the piano. Your thumb should be on Middle C.
How to Find Middle C on the Piano
If you are not sure where middle C is, find the two black keys in the middle of the piano just under the manufacturer name stamped on your piano or keyboard. The white key to the left of the first black (in the group of two) is middle C. It is called middle C because it is found exactly in the center of the piano.
Another way to find middle C is to start at the bottom of the keyboard (your far left) and count up 4 groups of two black keys. To the very left of each two black key group is C. Count up 4 C's moving from left to the center of the keyboard. This is middle C which can also be called C4 because it is the fourth C on the piano.
Jingle Bell Letters for Piano Players
Listed below are the Jingle Bell letters for piano. Put your right-hand thumb (finger 1) on middle C (C4). Start with letter E found under finger 3 and play each letter below under each finger number.
E-E-E
3-3-3
E-E-E
3-3-3
E-G-C-D-E
3-5-1-2-3
F-F-F-F
4-4-4-4
F-E-E-E
4-3-3-3
E-D-D-E-D
3-2-2-3-2
G
5
E-E-E
3-3-3
E-E-E
3-3-3
E-G-C-D-E
3-5-1-2-3
F-F-F-F
4-4-4-4
F-E-E-E
4-3-3-3
G-G-F-D-C
5-5-4-2-1
Nice work!
How Many Notes Are There in Jingle Bells?
Jingle Bells is easy to play on piano with just five notes and five fingers. Anyone can play this easy version in just 5 minutes or less. That means there are only five letters to remember on the keyboard that are found naturally under the fingers of your right hand. This is the perfect song for any beginner to play!
Now that you have your confidence built up, why not try some slightly more advanced piano versions of Jingle Bells? Don't worry. All of this sheet music has letters written in for you and uses only the right hand.
Jingle Bells Piano Keyboard Sheets for Beginners With Letters
Beginner piano players will enjoy this list of Jingle Bells piano sheet music. All of it has the piano letter notes included for you. This famous melody is simple play in many fun ways.
Learn how to play this popular Christmas song on piano fast. The letters of note names are written in for you. This makes for easy reading, plus the free interactive app makes it even more fun to play along anywhere. The melody line is written in treble clef. Chord symbols are included above each measure for the optional ability to play simple bass notes, chords, or arpeggios in the left hand to spice it up a little. It is arranged by Betacustic in the key of G Major. The only sharp to remember while playing is F#.
Watch this video to see if you like the arrangement of this sheet music before you buy. Then, play along using the tutorial below.
Beginner
Jingle Bells Beginner Piano Sheet Music With Letters Arr. by Betacustic (Digital)
This Jingle Bells piano sheet music includes letters, making it beginner-friendly. This popular Christmas carol is written by James Pierpont and arranged by Betacustic. Print a copy or enjoy reading and playing along in the free interactive app.
Letter names of notes included for easy reading
Treble clef melody line (right hand)
Chord symbols for the left-hand (optional)
Key of G Major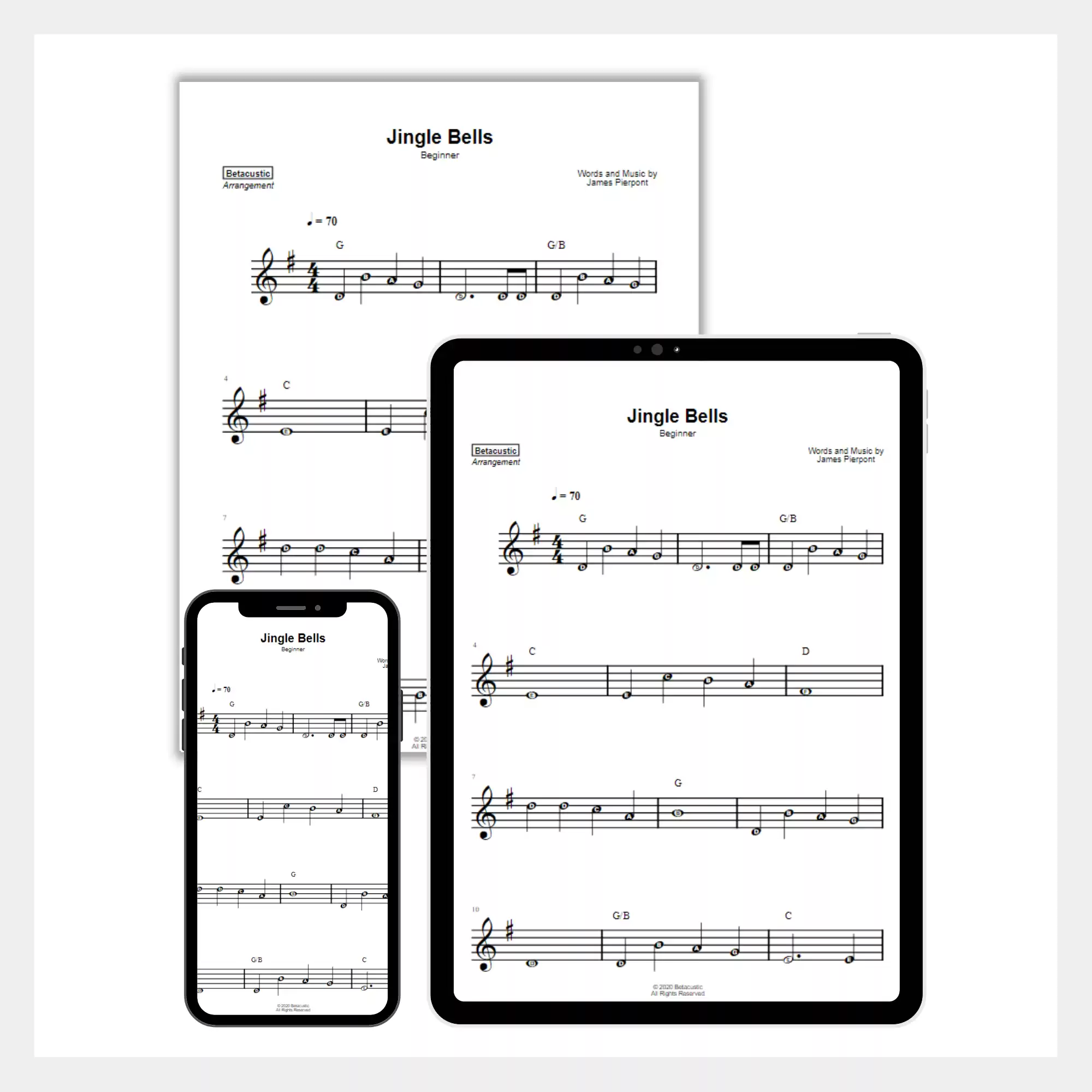 We earn a commission if you make a purchase through our links, at no additional cost to you.
Playing Jingle Bells on Piano With Letters Summary
It's fun playing simple piano songs like Jingle Bells, especially around Christmastime. Once you know how to set up your right hand on the piano and use the letters paired with finger numbers on the keys, you can play it just a few minutes. Are you ready to share it what you learned today with others?
Keep those spirits bright!