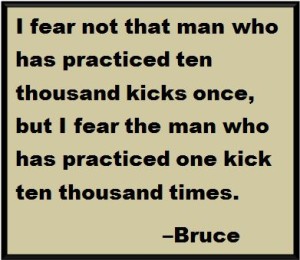 Have you ever read the book, The Little Book of Talent: 52 Tips for Improving Your Skills
by Daniel Coyle?
If you haven't, I highly recommend you pick up a copy.
It's a short, easy read full of powerful ideas.
I combined a few of these great tips together and came up with the 3 Good Ones In-A-Row method that I use for myself and my students.
It's simple, time efficient, fun, and it produces incredible results.
The 3 Good Ones In-A-Row Method
Step 1: Find one small chunk to practice. (one measure, one line of music, one scale, etc.)
Step 2: Practice that chunk in slow motion checking for accuracy.
Step 3: Work towards 3 good ones in-a-row.
In other words, practice until you can play it perfectly 3 times in a row.  If you make any mistakes along the way, the count goes back to zero and you must start all over again.
Why This Works
1) It's a fun game that makes practice more engaging.
2) It requires you to focus.  If your mind is wandering, you will take much longer to reach your goal.
3) This method helps you master anything in a short amount of time.  But only if you choose one small chunk to focus on.
If you're not seeing results, then you need to make the chunk even smaller.
Keep It Simple
This practice method is so simple, anyone can do it.  The formula is basically this:
1 Small Chunk + Focused Repetition = Results
Try it for yourself and let me know how it works for you…