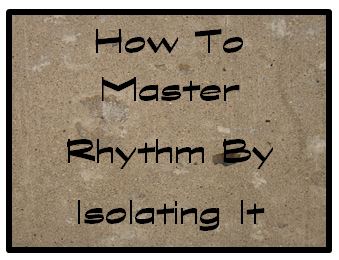 Are you having trouble reading and understanding certain rhythms in your music?
The most effective way for you to truly master rhythm is by isolating it.
Here's how you do it:
1) Find a measure in your music with a rhythm you are having trouble with.
2) Isolate it by ignoring the actual notes on the staff.  Only pay attention to the rhythm itself.  If you can't do this, then get a sheet a paper out and re-write the rhythm.

Now it's time to problem solve!
3) Break the rhythm down into it's smallest components.  In other words, find the smallest note value and divide all other notes down to equal this value.

4) Write down the counting underneath the rhythm.

5) Count the rhythm out loud several times while tapping your foot to a steady beat.  Try clapping it too.
6) Now, go back to your original music and sing or play that measure on your instrument using only 1 note.

If you have trouble, go back to chanting or clapping it in an isolated state.
7) When you feel this rhythm is mastered, go ahead and play it on your instrument or sing it using the music notes given in your music.
By isolating rhythms and using a little math to think through how to count them, you will be able to conquer them all in no time!